The unanimous decision Tuesday night is largely credited to an organized advocacy effort by veterans. …read more
Read more here: Voice of OC
By SMS
Newly Renovated Detached Single Family Turtle Rock Home
18845 Tabor Drive $1,249,000
Turning off of Turtle Rock Drive onto Grossmont takes you back to Tabor Drive which sits near Culver in this prime neighborhood. But more interesting than the location is the transition history of this 4 bedroom, 2 bath single family home. According to public records, the home sold in June, 2014 for $912,000. It is now back on the market (about 10 days) at $1,249,000. From 2007 to 2014 the property was listed, delisted, and had a pending sale in February, 2014 that did not go through. Now potential buyers will be weighing the new renovation as a finished package against the new price.
Significant Numbers: Built in 1968, this single level 4 bedroom, 2 bath home is 1,800 sq. ft. on a 5,663 sq. ft. lot at $694 a sq. ft. HOA dues are $25 a month. The broker/owner said the whole home and outside areas had been renovated.
Close up: from curbside all the way to the back yard this home has a lot of 'new house' characteristics. Fresh landscaping, travertine flooring, nicely upgraded carpet, new baseboards, crown molding, scraped ceilings …read more
Read more here: Irvine Housing Blog
The City Council unanimously offered up 125 acres of the city's Great Park for a state veterans cemetery Tuesday, a decision cheered by a standing crowd filled with uniformed veterans and supporters. It would be the first veterans cemetery in Orange County, according to the OC Register.
Irvine City Council candidate lauded the move, in a comment on Council Member Jeff Lalloway's Facebook page, "I'm very glad to know that it may be possible to honor our veterans with a cemetery in Irvine." Read more…
NEWS, FOR IMMEDIATE RELEASE
Contacts: Lt. Jeff Hallock, 714.904.7042, JHallock@ocsd.org
Emily Osterberg, 714.647.1840, EOsterberg@ocsd.org
Investigators Seek Public's Assistance in Identifying Armed Robbery Suspects
LADERA RANCH, Calif. – (July 22, 2014) – On Monday, July 21, 2014 at approximately 11:20 p.m., Orange County Sheriff's deputies responded to an armed robbery at the Arco AM/PM gas station store at 27402 Antonio Parkway, Ladera Ranch. The suspect used a black handgun and demanded cash from two registers in the store. The suspect fled the location on foot with an unknown amount of cash and no vehicle was seen. Read more…
By Karen
This week, I will review the Terrazza homes in Orchard Hills. They are the second largest on the Orchard Hills II side, but the fourth smallest in all of Orchard Hills (the seven larger collections are in the gated Groves area). Like all homes on this side of Culver, Terrazza was built by Irvine Pacific. The homes all have four bedrooms, including a main floor bedroom, and range from 3-4 bathrooms. Each home also has a loft. They range from 1,981 – 2,408 square feet. Each home has a two car garage, some with an additional storage area. Terrazza only has two different models, though Residence Two has a slight variation known as Two X, which is always on a corner.
Some of the standard amenities in all homes include Kitchenaid stainless steel appliance package, including cooktop, oven, microwave, dishwasher and hood; white satin Thermofoil cabinets with adjustable shelves; granite slab kitchen counters with 6-inch backsplash and full backsplash at cooktop; stainless steel double basin sink with Kohler pull-out faucet; master bath with a sterling tub with 6" x 6" tile surround and separate shower; dual Kohler undermount sinks with marble countertops and backsplash; …read more
Read more here: Irvine Housing Blog

Bombshell Great Park Forensic Audit Declaration By GP CEO Mike Ellzey
By Allan Bartlett (an Irvine Finance Commissioner)
If there were any lingering doubts about what happened the last ten years out at the Great Park in Irvine, GP CEO Mike Ellzey has laid those to rest. A 200 page deposition of Ellzey by city attorney Anthony Taylor was delivered today to Irvine City Hall in compliance with the California Public Records Act. The deposition is wide ranging and almost 200 pages long. It also includes a 29 page exhibit of a sworn declaration by Mr Ellzey. It details potential fraud perpetrated against Irvine citizens by Council Member Larry Agran and his complicit majority of Beth Krom and Suhkee Kang the likes of which are unprecedented in Orange County and I dare say the country.
I think what I will do to start is pull some quoted from Mr Ellzey's declaration and add my comments.
"The consultant was telling the client what to do. The City was not treated like a client or owner, but more as a facilitator and expediter of projects determined by others. When I realized the depth and breadth of this culture, it concerned me greatly. Based on my experience managing large public projects, this practice was clearly unacceptable for a public agency".(Page 3 & 4 of the declaration)
You can tell right away this is gonna get ugly Read more…
PRESS RELEASE, FOR IMMEDIATE RELEASE: July 21, 2014
CONTACT: Lynn Schott,949-433-1502
Irvine Planning Commissioner Lynn Schott for the Irvine City Council
IRVINE – Lynn Schott, A member of the City of Irvine's Planning Commission since 2012, has announced that she will be running for the Irvine CIty Council this year in the November General Election.
In addition to her service on the Irvine Planning Commission, Schott previously served on the Irvine Community Services Commission, from 2010-2012, having been appointed by Dr. Choi. Read more…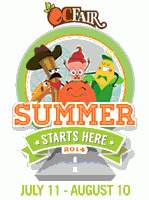 2014 OC Fair's Second Week Features Performances by The Go-Go's, ASA Action Sports World Tour and No Duh Plus Free Activities and Family Fun July 23-27
Plus the OC Fair will salute Huntington Beach, Laguna Beach, Laguna Hills, Laguna Niguel, Laguna Woods, Los Alamitos, Orange, Santa Ana and Seal Beach on select days July 23-25 with a community flag salute and discounts
Costa Mesa, Calif. (July 21, 2014) – The 2014 OC Fair (July 11-August 10) continues onto its second week of summer fun featuring world-class entertainment, deep-fried munchies, Texas-sized donuts, daily exhibits and thrilling rides and games. The Fair is closed Monday and Tuesday.
Here is a quick look of the events going on this week (July 23-27) at the 2014 OC Fair: Read more…
Fish & Tsang LLP, a premier Southern California intellectual property (IP) law firm recently hosted "A Toast to Orange County" at its Irvine office.
Presented by UC Irvine School of Law and Fish & Tsang, more than 50 distinguished community leaders welcomed class of 2017 UCI law students to celebrate the vibrancy of Orange County and the work of legal community.
Event speakers included partners Bob Fish and Mei Tsang, UC Irvine Assistant Dean Janice Austin, UCI Chief of Police Paul Henisey and Orange County Bar Association's Todd Friedland.  The event celebrated all that Orange County has to offer a student hoping for a promising law career – with one of its most notable firms as a backdrop. Read more…